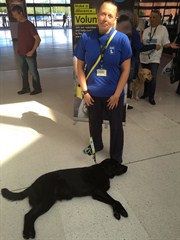 My whole reason for writing this blog is to raise awareness, share some of the crazy hiccups that occur along the way on my journey in a world of sight loss.
I enjoy campaigning about issues that I found myself affected by.  So, way back in September I supported Guide Dogs on a campaign day collecting signatures for a petition to 'The Big 5.'  For which I wrote a one off blog for guidedog.org.uk, which is linked below.
Pavement Parking causing headaches.