I may have written about this before, many years ago a friend referred to my past and my baggage as a complete matching luggage set.
Recently I have been undertaking counselling for my anxiety and depression,  which in turn has lead me to get this lovely (not) large set of cases out of the dark parts of my mind.
And I have not been enjoying dusting them off or opening them up.
However, the past can have its uses.
It can on the surface have perfect vision.
It can also offer comfort.
However, one thing to remember is that the past is somewhere you once lived.  Not somewhere you can revisit to alter.
It is behind you with no re-entry allowed.
It is interesting to think that it can hold the keys to unlocking the future though!
Yes, this post is full of metaphors, but what can you expect at 2.30am after an evening of reflection with friends?
It was not an evening fuelled with alcohol, although maybe too much ginger ale Fizz?
Anyway, I digress…….
As part of my current therapy sessions I am looking at and deconstructing my own core beliefs, my rules, my 'coping mechanisms' and eventually this will lead to breaking habits of a lifetime and learning to change, learning to give myself some slack and to (probably most importantly) be able to spot when I am falling into old habits; being able to break them.
After all 'rules are made to be broken' (last metaphor I promise!)
Anyone who has undertaken the NHS's iTalk therapy will have an understanding of what I am talking about.
It is based on CBT – Cognitive Behavioural Therapy.  A therapy that I did learn of during my own counselling courses, but not one that I followed in great detail…. for the NHS is is a good therapy, it is one that can be provided on either a face to face basis (which I have) or over the phone, saving many 'man hours' overheads along with additional anxieties for some who are in receipt of the telephone consultations.
CBT is largely known as a talking therapy, it has many different 'formulations' so can be tailored to an individual needs much easier and quicker than some other therapies.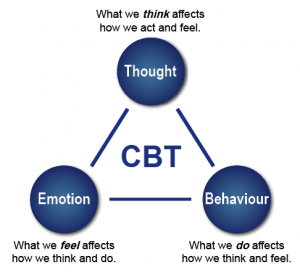 It is a fascinating therapy and one that I am only just learning.  However it is one that I can already see as a great working theory that has so much to teach me.
So, watch this space……. I may find a way to expand on this soon.