Prolonged hot weather and guide dogs don't mix.  So where I have been using my cane for all 'ESSENTIAL' journeys and cancelling those I could, the length of this heatwave is getting rediculous now!
I can't keep cancelling things, I can't keep letting people down.  I can't keep letting myself down!
Then a very such event popped up in the diary.  An event that no-one would have judged me for for not attending; but one I really wanted to go to and be part of.  So with some extra planning I didn't let myself cancel.
I even arranged a 'puppy sitter' for my faithful Fizz so she would have company and I could take my time….. Also as this event saw me travelling to London it wouldn't have been fair on her just having the neighbour pop in every few hours.
Yup, you read that right…. I went to London; more so I went to London dogless!
The event was facilitating and supporting route setting for an informal para-comp being hosted by VauxWall Bouldering Centre and Paraclimbing London.
The wall wanted to run the competition to enable abled bodied, non-sensory-Impaired climbers to gain an understanding of how someone could climb with differing abilities.  The competition was also set up so that those with impairments could try out bouldering or improve on what they were already doing.
Being a very hot day meant that London would feel EVEN HOTTER to an outsider like me.  The event was also set to take place on the very same day that The Gay Pride Parade marched on London; and if that's wasn't enough, it was also the day that the England Football team got into the Quarter Finals of the World Cup for the first time in decades!
So, as the title suggests ….. Who needs a comfort zone anyway?
Maybe it was the heat beginning to take its toll.  Maybe it was the chance to climb.  Maybe it was simply the fact that I felt I needed to prove to MYSELF that I could do this….. Who knows.
Anyway,  train ticket bought, journey planned and even altered so I didn't have to tube through London with my cane. (Vauxhall is just one change at Clapham Junction-a station I have regularly used) and I even (virtually) walked the route from the station to Starbucks and then onto VauxWall via Google Streetview.
I planned to arrive early, sadly delays due to network rail engineering works and cancelled trains changed that for me.  However it did mean that I arrived ON TIME!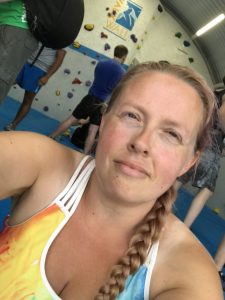 The climbing was great fun, even though I sustained an injury to my left hip and right knee.  Paraclimbing London and VauxWall had a brilliant turn out (despite the weather, pride and football) And I found myself only leaving 30 minutes before I had originally planned; in case there were similar issues on the way home.
It wasn't easy to navigate major (or even minor) railway stations with my cane.  It wasn't easy navigating where the door to Starbucks was and it most certainly wasn't easy to navigate finding a seat (or even assistance) on the train.
But I did do it.
Big tick to me.
Although I wouldn't do it again out of choice!
Its good to challenge yourself some times, it's good to know that barring the odd 'rib-jab' my cane akills are still pretty good.