Although I have been climbing for a few years now, I would say that it is only since I discovered how poor my performance was in last years Para climbing BMC Competitions were that I have really been working on upping my game.
So, when a friend and fellow blind climber shared on Facebook the BIC Festival (Bristol Inclusive Climbing) I found my interest spiked.
Checked the calender…. It was clear.
My climbing partner in crime was away with a Cub Scout group.
And being over a month away, the train fare was less than £15 return.
With all those ducks in a row, there was just on thing for it….. I was going to Bristol.
Fastforward the month (to Friday 1st September) and it was time to set the alarm.  My bag was packed for the day, my tickets were printed and I had apt reading for the journey.
The direct train from Fareham to Wales, via Bristol had even gone as far as to allocate me a seat (thanks to the kindness of strangers I was able to find my seat and settle for the trip)
Just under 3 hours later, the announcement on ithe train said 'We are now approaching Bristol Temple Meads" and just in time as Miss Fizz was beginning to become unsettled.
We got off the train, found her a comfort stop (the platform guttering) and we were on our way,
I had a 1:1 session booked in as part of the festival in the afternoon, so for now with Fizz by my side we were off to explore Bristol.  Being a place we have never explored before, with the sun shining there was no time like the present.
Along with Google maps and a need for a Starbucks, we set off.  We walked along the canal, we walked amongst the many building projects and we found our way around the busy roads and numerous complicated crossing to get to 'the shopping district'. Where my faithful guide sort out and found said required Starbucks.
The Climbing centre hosting the festival was Bristol Redpoint.  Which was uncharacteristically placed within more of a residential area than many other climbing centres.  So with my trusty phone, I worked out the bus route, running maps along the journey (as the bus had no audio descriptors of the journey). Although the driver had assured me she would let me know when it was my stop, I wasn't leaving anything to chance.  And as luck would have it; oven with my poor sight, I was able to see the climbing centre as the bus passed it (the bus stop was just past it)

The sun was shining and I soon discovered that it was not just the centre of Bristol that had busy roads and complicated crossing … Espeially for a blind girl and her guide dog!
But again, the kindness of strangers found us being walked across the road and traffic stopped by a kind hearted delivery driver that was partly the cause of the terrible crossing conditions as he was parked up ready to make a delivery.
We made it safely across and into Redpoint, where Fizz instantly recognised a friend.  The wife of the fellow climber who had originally shared the BIC information on Facebook.  He, John as a VI climber was sat in the midst of the festival chatting to visitors and participants about the para-climbing community and the bmc team, which he is part of.
The staff at Redpoint had clearly undertaken disability awareness training and were very helpful, yet not in a patronising way.  I was guided by a friendly guy who was explaining the changes in floor textures, the areas we were walking through and finally the festival sign in area before handing me over to his colleague to chat with me in more detail.
All the staff I encountered were incredibly friendly and a female member of staff kindly showed me where I would find the toilets, before explaining the room layout to me.  (A point which is often overlooked)
So, freshened up and kitted up I left Fizz 'benced' to a tale where she was able to play with both John's working guide dog and retired guide dog while I went and enjoyed a 1:1 session with an instruction called Tom.
Tom was very easy to talk too and we chatted about my climbing experiences, my sight and my hearing.  He then asked me a question I didn't expect,
What would you like me to challenge you on today?
So, we had a bit of fun, I tried a bridge problem, where for the most part my feet climbed up the walls to the left and right of me, with the odd quick foot touch on the wall in front.
Tom put me on a wall with a much higher climbing grade on slab to see what I could do.  Turns out I pulled off one of my highest grades yet (with the acception of the final foot hold)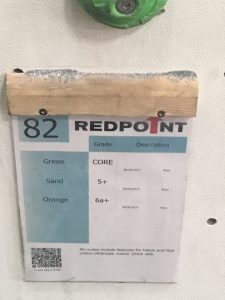 And he even ran through some memory traversing with me.  Where my feet could go on any hold, but my hands were only to touch the green holds and in a particular sequence that was almost like playing out a song to achieve the right moves. (Sadly no photos of this)
It was an amazing day and one that (writing this 10 days later) actually helped me greatly with my first Comp of the season at Ratho