… In one day, with each of those climbs topping out at 14m, doesn't make a 225m climb sound TOO difficult, does it?
Or is it wishful thinking on my part?
Either way, there is no backing out now.  The posters have been printed, the wall booked and my climbing partner (in crime) has agreed.
So, on May 3rd I shall be climbing the equivalent height of The Cheesegrater; otherwise known as The Leadenhall Building, the 225m office building that towers over its closest neighbour (and another building who's height I have climbed) The Gherkin, 30 St Mary's Axe.
Time to 'earn' my hearing aids.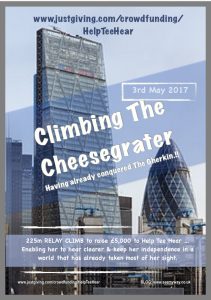 If you would like to show your support, you can donate HERE