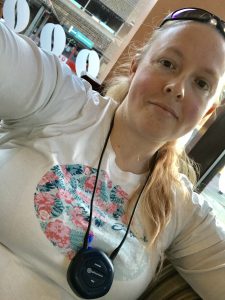 The sun is out and so are the sunglasses!
Hello Sun…….
This leaves me feeling a little 'vunersble' though.  You see I have continued to wear my glasses as a way of 'hiding' even though I gain very little from them when I am out and about.
It is a comfort, because I don't like how my eyes look.  Having always worn glasses it feels like I have huge dark circles around them, that they are 'sunken' within my head.  And because it appears more 'obvious' that I have a sight issue when people can see the continual movement of my eyes.
Team these 'anxieties' with the fact that I feel that my hearing aids are 'HUGE and OBVIOUS' when really they aren't and you can see where my self-consciousness comes from?
Today though, today was a small victory kinda day…..
Sat enjoying a cuppa, tea it's Fizz curled up at my feet; it was only when a woman tapped me on the shoulder that I realised I was being spoke to.
You see, not only did I have my sunglasses on my head, butI also had my 'Amplicomms' personal T-Loop system around my neck like a large lanyard.
But to the 'unknowning eye' it wasn't as 'obvious' !!!
Today for the first time in a long time I am also wearing my hair up in a ponytail (instead of the usual plaits) which to me makes it feel like my hearing aids are in full view of everyone; when in-fact they are hardly noticeable!
So, pausing the book I was listening to, I apologised to the woman for not hearing her and it was very pleasing to hear her reply
"I would have never guessed you had hearing aids in, or that you couldn't see me, I couldn't see you wearing headphones; I just thought you were ignoring me!"
Maybe I am the only one who feels self-conscious like this, or maybe this is a 'common' feeling amongst those with sight loss and hearing loss.
Either way, a strangers comments made me feel slightly happier with myself today.