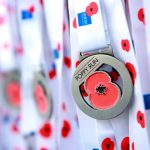 This year has been fairly quiet for my climbing.  However I have not been doing nothing with my time.  I have in fact been in training.
Training for a different kind of challenge.  This challenge is to run.  Something I have not done since completing The GSR five years ago.
The reason I haven't run for so long is that I discovered just after I started to notice my hearing loss that when running at the gym I suffered with motion sickness.
But I have (in secret) been completing my own variation of 'couch to 5k'  I have even been taking off my Apple Watch as to not alert my friends who I share my activity with aware of my training.
My training has been on a set flat path at the far side of a local leisure centre parkland.
I have not quite manaeged a full 5k to date, but I have discovered that on a flat concrete path I do not suffer with the motion sickness I had suffered on each occasion (I tried several times at different times etc) of a treadmill run.
So, why am I letting you all know my secret?
Well, this Sunday I am attending a race.  A flat course where I will have a guide runner and my children.
This Sunday we will undertake The Poppy Run.
This run is organised to raise money for The Royal British Legion.
Those who have followed me for some time will know how much I love the poppy.  I love what it represents and I am forever grateful to those who have stood up protected our country.
So, along with my children, my guide dog Fizz (who isn't running in harness, rather joining the other dogs who are welcome to join in the days events) and my friend and guide runner Vicky on Sunday 4th November at 11am we shall stand in silence for 2 minutes before setting off on the 5km course around Southampton Common.
I am doing this for other reasons.
4th November 2018 marks 10 years since I received the news that I would loose all sight and was registered severely sight impaired (blind)
This day is one I wish to celebrate and what better way could I do that then support a fantastic charity and face a personal challenge?
Well, maybe it's because the girl in me enjoys a bit of bling and I can't wait to complete the run to receive my poppy medal.
So, dear readers I ask for your support.  As I am sure you are aware this year marks 100 years since the end of the First World War, a war where so many have their lives to enable us to keep our future.
As a family with multiple different surnames we have set up our just giving page as 'Madhouse Family Poppy Run'  We would love to smash our £100 target.