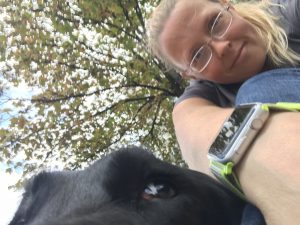 When opportunity presents itself, take its hand and let it lead you beyond your comfort zone.
A fellow VI friend informed me of an upgrade available to me as a guide dog owner to sleep in a cabin overnight on a train for the cost of a seated ticket.
The Caledonian Sleeper from London to Scotland gave me just such opportunity. So in planning a trip I had hoped to take with my CPiC I booked a trip from London to Glasgow.
A journey which soon gave me the option to either cancel or put on my 'big girl pants on' to go alone….
Cancelling wasn't really ever an option, as I would loose money not only on tickets, but on rooms already booked; plus my pure stubborn nature wouldn't allow it. So I decided to go alone (with my guiding girl Fizz) and a new plan was made.
London to Glasgow was recommended to me as Edinburgh was hosting The Fringe Festival.
So my plan started to come together. I would travel to London on Monday, to catch the 23.20 sleeper out of Euston to Glasgow.
Monday was my day to explore London.
London is somewhere I have been many times before, however with my suitcase I wanted to stay close to Euston. But just getting there wasn't so simple.
Having used Euston Tube station as an interchange before for the northern line I was aware that it only had escalator access to street level. So I made the brave (slightly silly) decision to get the tube to Kings Cross and walk back to Euston.
The walk was the easy bit, but the different lifts and levels of Kings Cross was a bit of a 'challenge' to say the least. But one I achieved on my own. The opportunity was there to ask for assistance, but I chose to put my problem solvcing hat on and just 'get on with it' Afterall, I have been to Kings Cross before and if in my mind if i couldn't handle the tube, how would I manage Glasgow?
Hitting Kings Cross also gave me the opportunity to work out a green space for Fizz because with planned engineering works at Euston at the weekend, we would be returning to Kings Cross. Thanks to the power of social media, I was made aware of a flower bed to the side of the station.
The flower bed was in fact right beside The British Library, a building that has always fascinated me. So with time to kill I took the opportunity to go in.
WOW …..
The security staff were amazing, from explaining the bag search, to using a body scan wand on me and Fizz and continuing to explain it all to me; to then walking us down the ramps to the cloakrooms so I could have my suitcase stored while I explored.
Sadly there were no large print maps available, but as I explained to the staff that I used my phone as a magnifier they quickly radioed through to the other room attendants and security to make them aware that
"the blonde haired woman with the black guide dog who is deafblind has permission to use her phone as an aid to assist her, she isn't taking photos, but simply magnifying the signs to enable her to enjoy her visit.'
This made me feel so very welcome and enabled me to enjoy my visit; while breaking down barriers for other visitors, who stopped to ask me how I was managing with the maps and signage.
I never went to look at the books (I do want to do this, but think it would be much easier with a sighted assistant) I purely went to look at the building…. The way the levels are open, the way the skylights are positioned, and I wasn't disappointed.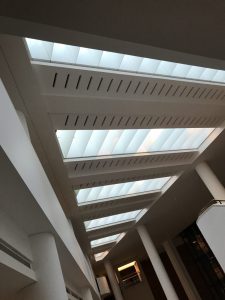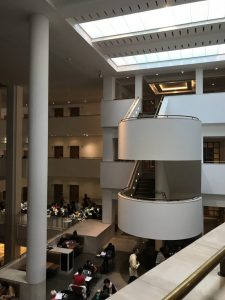 I enjoyed the fact that I could sit on each level, watch the world go by and enjoy the different ways in which other people used the space.
Because despite my failing sight, I love to read and I have always had a fascination with libraries. So for a few hours after I explored the space I sat down with a comfy spot for Fizz and read my latest book. (Which is for another blog in the future)
This was just the calming and relaxed start to my adventure I needed before I met up with a climbing friend for a late supper.
We sat and talked, we ate, we drank and then realised this is the first time we have ever met outside of a climbing wall or competition setting.
And before I knew it, it was time to catch my train.
I felt nervous.
I felt excited.
I felt exhausted.
So, with a quick stop at Starbucks I went to find the assisted travel desk to board my train.
TO BE CONTINUED …