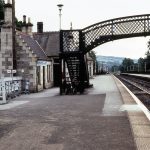 Continued from ….. GETTING MY GEEK ON in Glasgow
The train journey was through rolling hills and beautiful landscapes.
Arriving at Pitlochry a fellow passenger helped me off with my case as there was a pushchair and hold-all in the door; only to have someone take my case on the platform!
All was okay though…. the man taking my case was in fact my cousin who had come to meet me!  I would be spending my time with him and his wife.  He gave me the warmest of welcomes and enveloping hug, easing away all the tensions from galavanting in Glasgow.
Fizz also had a friend, in their dog Honey (although on first impressions they weren't too keen on each other)
Pitlochry is somewhere I have never been before, but thanks to good olde Google Streetview I felt it was somewhere I would be comfortable.  The high street was made up of a mix of cafes, charity shops and outdoor shops.  The homes were nestled within lush green fields and with numerous whiskey distilleries, long walks and most importantly … FAMILY
A family who opened their home to me. Who cooked me a overly dinner and who walked me via the local golf course to the pub to enjoy a drink or 3 with them and their friends.
After a very comfortable nights sleep we took the dogs out for a walk to Black Spout Wood, a beautiful and refreshing walk with streams for the dogs to splash about in and my first ever encounter of a natural waterfall.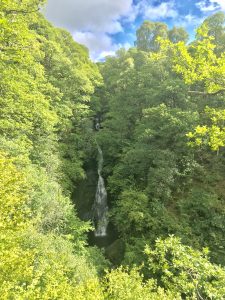 The waterfall was considerably smaller than than usual, because water levels in the streams were much lower as even in Scotland they have been having a very hot summer.
All before returning for some lunch before embarking on a second walk and whiskey tasting in the afternoon.
Afterall, you can't come to such a beautiful Burgh without tasting the local produce … Even if that is whiskey and gin!
And it is a whiskey that the store keeper knows so well, with the undertones of banana in one and dark chocolate in another; I must admit that to my untrained nose I could taste the differences in the samples, but not what was explained.  We even sampled some of Pitlochry's new gin, which I found very enjoyable and easy to drink.
After a few purchases we headed off towards The Pitlochry Dam.  A structure that was planned back in the 1950s, being fully operational in 1962.  You see the dam had (at the time) been part of Scotland's history as the dam created hydro-electricity that helped to power just under two-thirds of The Highlands energy supply (bearing in mind the in 1960 energy usage was no where near what it was today)
The dam being on the river Tummel also included 'A fish ladder' enabling the salmon to move through their migration into the river after the dam.
The visitor centre had been renovated in recent years and for my cousin it was the first time he had visited it, we enjoyed some time looking around and learning the history and impact of the dam.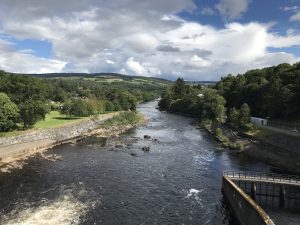 Again, the river Tummel and the Dam are showing how deplested the water levels are given the hot weather.  It was very interesting though to find out how important and revelationary this dam was and how even now it continues to support Scotland's power supplies, although now much of Scotland receives its energy from wind turbines.
During our walk we encountered the odd shower, but this just created a beautiful sky of blue and grey with the odd black cloud against the lush creeks and earth colours of the hills and trees.
But sadly all too soon, it was time to catch another train.  For the next part of my adventure.  A train journey that saw me returning to Perth before changing to travel on to Dundee.
Dubdee is a city I have visited many MANY many times before, but not for several years.  In fact, the last time I visited was when I went to my Grabs funeral.
But that is another post.
To Be Continued …