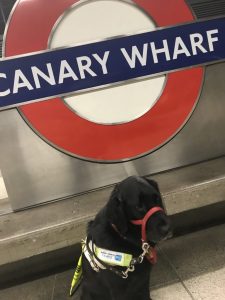 With my faithful-guide dog Fizz by my side (and guide-gal Vicky before her) I am able to travel to and around London with ease, the London Underground network is vast and with audio announcements and fantastic friendly staff (TfL) along with the odd app or 3 I have found I can stay largely independent in a network that often confuses those without additional needs.
I was first made aware of 'The Tube Challenge' in September 2018.  The challenge is to visit all 270 stations on the London Underground Tube network (not including dlr or overground) in the fastest time possible.
The current Guinness world record is held by Andi James, who completes the challenge in the fasted recorded time of 15 hours 45 minutes 38 seconds.
So when I asked if the challenge could be done with a disability, he took it onboard and now we are here.
On Friday 11th January 2019, along with Andi James as my sighted guide I will be aiming to complete The Tube Challenge.
Given the nature of the challenge, the endurance aspect and the travel, the public and the timings.  This is one day of tube travel where I will not have my guide dog with me.  Fizz will be enjoying the rest with her paws up, while I achieve my goal.
This in itself adds additional elements to completing the challenge with my cane and sighted guide.
We shall be starting early on the Friday morning, traveling through rush hour, navigating the tube network, swapping between lines that will see us travel above ground in addition to under it, traveling around some of the networks busiest station, heading through evening rush hour and the weekend get-away to achieve this.  All parts of which will hold its own challenges.
The gauntlet has been laid down, the planning has begun.  And now is where I ask for your support.
In addition to achieving this I wish to raise awareness of the freedom my guide dogs have given me.  It is in memory of my first guide dog Vicky that I wish to do this.  She sadly passed over the rainbow bridge on 2nd January 2018; having hung up her harness on 19th January 2015 when Fizz stepped into her paws.
And in raising awareness, I wish to raise money to name a guide dog puppy, a name that will mark the occasion.  A few names have been put forward once they are agreed I shall update this page accordingly.
Please can I ask you to dig deep, show your support.  Just-Giving-TinkOBell270