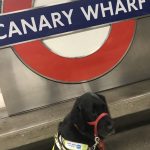 Since the beginning of April 2020, when it became clear that lock-down was here to stay I joined an online virtual challenge called 'Race at Your Pace'. Being that both running and cycling require the input of a sighted guide I joined the walking challenge and between April and 31st December I clocked up 612mi.
BUT WHY?
As a form of training for a challenge I hope to complete now we are in 2021. Which I originally wanted to call 'my Womble Challenge', in that I shall be walking the London Underground Overground (cue cheesy 1970s tv theme tune) However, as this is a different version of The Tube Challenge I completed in 2019 I have setted for
'Tinks Tube Challenge, a 2021 Twist'
As it was "Tinks Tube Challenge" that saw me travel to and through all 270 tube stations on The London Underground with world record holder Andy James, in under 19 hours on this day two years ago.

However this time, (thankfully) there is no time challenge or running. Instead each line I walk will enable me to see London on the surface. Take in the sights, the sounds and the smells. And with the length of the walks vary from just 32 minutes to 2.5 days. (as i will be stopping and sleeping) if it is a part of london covered by the underground network it will form part of the walk. I plan to walk to each tube station on each line; this will see me visit most stations more than once over the full eleven walks.
With Kings Cross St Pancras being the staiton I will visit the most.
This is not a new challenge, there have been variations of this challenge achieved over the last few decades; it was actually reading Mark Masons' book 'Walk the Lines, The London Underground OVERGROUND' That inspired me to take on this mammoth challenge.
Which if TfL run to time will see me complete 272 stations with the new Northern Line extension out to Batttersea Power Station.
As with my previous tube challenge I am completing this as part of my fundraising to name a life-changing guide dog Victoria. 2020 would have been ideal for this as the puns relating to sight and 2020 are in abundance, however the Covid pandemic had other ideas and foolishly lead me to believe that by now we would be out the other side and returning to some normality instead of (again) being in a form of lockdown. (Oh how niave of me!)
So instead of launching this challenge today on the 2nd Anniversary of me completing the original challenge as I had planned; by starting out on my first walk I can only write about it here and instead build the tension.
2021 for me has already started with BIG BIRTHDAY, so it is only fitting that I give back to others. Guide dogs are and have been a big part of my life since 2009. So it is in this monumental year for me age wise I return the support, while doing something that I am actually really looking forward to.
Given the distances covered on each walk, there will be very few that I am able to complete with Fizz by my side, instead I have a team of volunteers to support me as sight guides and my faithful cane.
Given the current restrictions and dangers to everyone with this pandemic I feel it is a much more realistic expectation that I probably won't get to physically start my challenge until the latter part of the year. So, for now I will continue to train, working particularly on increasing my fitness and stamina; so that when it is safe to do so I will be good to go.
…. On a side note I have also updated my fundraising page too, which can be found HERE