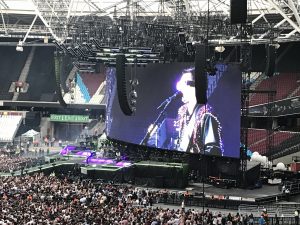 This weekend was set to be AMAZING. When you have tickets to see the group Muse live you know it will be a show, unlike any other gig.
Following on from seeing them at the O2 in London back in April 2016 where they put together a pure theatre experience; … expectations for this tour were high.
This time it was hosted at London Stadium, home to the 2012 Olympics' and a venue I have previously been to when I saw Guns'N'Roses in 2017. A very different venue from the O2, being that it is partly open air is probably the biggest challenge.
And that is just what the band had to deal with.
For me, knowing my sight and hearing were so much more progressive and had greater deteriorated from 2016 I was a little nervous to say the least.
Then came the biggest challenge ….. Weather reports set to see London temperatures reach in excess of 22 degrees for the weekend. In the city, 22 degrees feels more like 27-29 degrees and meant just one thing … Fizz my guiding girl; who loves London so much wouldn't actually be coming.
This was what was best for her and as I was trailing and staying with a good friend who knew my issues I wasn't overly concerned about spending a weekend with my (not so faithful or intelligent) cane. On the plus side, this meant that I could take full advantage of all the escalators on the tube network and within Stratford's Westfields shopping centre.
Although in a funny twist this meant that I actually got lost at London Waterloo for the Jubilee line as I wasn't sure which set of escalators it was! But once that was sorted, I made my friend laugh at my 'childish giggle' of being able to use the escalators…. She also got to watch first hand how people paid very little attention to my cane and often found themselves jumping out of my way.
The weather was hotter than expected, so I know that I made the right decision leaving Fizz home….. Even though I discovered that our seating within the stadium would have afforded her plenty of room to lay by my feet.
This time on visiting the stadium we took advantage of the accessible shuttle bus that ran from the end of The Jubilee Line station directly to Bridge Three at the stadium. That just so happened to be quite close to our actual seats.
This tour was called 'Simulation Theory' so I knew it would follow the similar robotic theme of the videos that had been released with the album, the colours were set with a mix of blues and pinks and the slight 'stranger things' theme that Muse had insinuated upon would all be included.
Our seats were to the right hand side of the stage, the stage this time was at the far end of the stadium, not in the middle as it had been with 'Drones'.
But my friend that was with me said we had a good unrestricted view of the whole stage (or rather she did because with my sight I could only just about make out the large screen)
The support acts were good, but visually very minimal as I can only assume that was because it was being saved for the main event……
When Muse came on the natural light was beginning to fade and the screens were being used fully.
I took photos and even the odd video of my favourite songs. However, I left the gig feeling totally under-whelmed.
We met up with other friends who had been there too. They were sat further away, but directly face on to the stage. As it would happen, one of the party was actually my friend that had attended the 2016 Drones tour with me. He was in absolute awe of the gig, saying that they did not disappoint and they even improved upon the showmanship of the previous show. So I realised then I had clearly missed something….
Then the NME review came out …..
And I realised that I had missed the most magical parts of the show, which left me feeling quite upset and frustrated with myself because this seemed to mean that my time of enjoying 'a show' for more than the music was over.
I watched the videos that I took, and was able to zoom in on the visuals that I had missed. Although this wasn't quite the same….. I am still undecided as to how I am feeling by all of this.
Maybe I need to see among my friends if any of them took videos that I can watch?
Maybe Muse will release a film of Simulation Theory as they did with Drones? But then, that may be another 2 years to wait.