It has been a busy few weeks and I haven't had a moment to catch my breath or update you all on what has been going on in the world of Tee.
After months, months and months of putting it off, I booked myself on a new course to really test my ability to do something that you wouldn't usually find a VI doing. I did a taster course in rock climbing.
I know, many have questioned me "why rock climbing?'
The answer is simple. Since loosing my sight I have also lost my fear of heights.
So in answer to them, "Why not?'
I have a friend who introduced me to it, a few years ago when he spoke of how he used to climb, but as his climbing partner had moved away and life had got away with him, he hadn't been.
So, I booked the course and off we went to Calshot, a fabulous climbing (among other things) facility.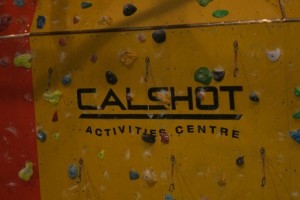 Unfortunately, like many great places, it is a 60 mile round trip. But definitely worth the trip. But as you can see from the images, they have some wonderful climbs.
I was incredibly nervous. More so, when we arrived and I was the only girl doing the course. Other than my friend, the seven other men were on a work night out. My nerves were soon settled by the course instructor Adam.
Upon completing the online booking form for the course, I had detailed my visual impairment, so Adam was prepared. He was happy to take his time with me to feel and understand the harness before I put it on. He explained that he had never worked with a visually impaired climber before, so if I needed more help or even less, to just be honest with him, so that he can ensure me the best possible experience whilst being safe.
We all went out to the first wall after we had put our harnesses on, ready to start our experience. As their was nine on the course, we were put into groups of three's. That gave each team a climber, a belay and an anchor, giving each of us the opportunity to have several goes within each role.
It is hard for me to put into words how it felt the first time I started to climb. It was a mixture of nerves, panic, strain and probably the biggest dose of adrenaline I have felt in an incredibly long time.
Having had the opportunity to belay before I climbed, the concern I had about someone holding my weight was quashed. The guy I belayed was quite tall and heavier than me, but when I was helping guide him down, he didn't feel it. (I am a girl after all and weight it always a concern, one that doesn't decrease as my sight does!)
So, standing in front of the wall (the blue wall shown in the photograph above) and looking at it in such closeness.
I froze.
I literally hit a wall.
I could see the blue of the wall, but I could only make out the occasional climbing holds, which all seemed to be much further away than my hands and feet could reach.  So I started, reaching first with my hands and hap-hazardly with my feet, but I was on my way, very slowly.  This was where Simon came in, he started to explain to me where I could move, simple instructions like "left foot left knee'  but it was enough… It meant that although I couldn't see the holds by my feet or even my feet for that matter, I could see my hands and where they could go, with the explanations from the ground I made it about half way, before fear and emotion kicked in.
Once getting back on the ground and speaking with Simon and Adam, they explained that often the belayer will give such instructions from the ground to the climber, regardless of skill.  As it was often easier to see a hold from the ground.
After we had all had a chance to scale this wall, we were taken to a different wall, this was where Adam showed his concern for my sight and my ability.  As he had moved us to a wall that had an over-hang on it, which he was concerned that if I were to climb it, I may hit my head.  So he placed my team on a wall slightly away from the main group.  To a yellow wall, that went straight up.
The yellow was easier to see the holds on (well most of them) as the lighting on this side of the centre was clearer too.
I could go on and on about what it was like to climb this wall, but I'm not here to bore you.
After we had climbed, we went back to the team room to de-harness and this was when after the others had left, I was able to have a very honest conversation with Adam and Simon.  Adam was already able to see that I had 'caught the bug' and he was so kind as to talk me through different harnesses, climbing shoes and different options for learning to climb.
As we were leaving, he even gave me my own piece of 10mm rope so that I could learn to make a 'figure of 8' and practice it in preparation for taking part in the induction training course.
So, my new love affair began…..
That was six weeks ago now!!  My induction course is booked for April, but in the meantime I have been climbing pretty much every week as Simon's guest at the climbing wall.
(But that is another post….)