Spring is in full flow; with frosty mornings and the lighter evenings it is as if there are more hours in the day; or rather it is the illusion that more daylight creates. It is wonderful for lifting the mood after what felt like an even longer than usual winter considering much of it was spent in lockdown or local restrictions because of the continuing covid pandemic.
Spring and summer evenings extend the opportunity for me to get out for a walk. Recently I have deliberately headed out as the sun has begin to set to experience the lowering light levels; ensuring I am home before it actually gets dark as this is when my sight changes dramatically.
Part of my sight condition is 'night blindness' which for me means that any lights that are on are glaring and sometimes even painful to look at. While the light they cast is actually totally lost on me as I would be lucky to see my own hand in front of my face. It is a time when Fizz really has to work; which over the years together she has learnt to do. She will even pause on the step up a curb when its dark as apposed to daylight when she will just step straight up. (which has on more recent occasions seen me trip) yet in the dark, she does this without being asked.
Today, due to circumstance I found myself heading out for our evening walk AFTER the sun had gone down, it wasn't really dark, but dark enough for the street lights to be on. Having been a beautifully sunny day I found myself with my sunglasses sat on the top of my head; so took the opportunity to test something out.
I have previously sat in a friends car (when we could do that sort of thing) and put my sunglasses on to help reduce the 'dazzle' I was getting from oncoming cars when it was dark, although I was sat still and didn't need to actually concentrate on my surroundings. Tonight however was different, I was walking with Fizz, all be it on a route we both know well. It may sound silly, but I felt nervous, anxious even.
But it was just a pair of sunglasses, I could always take them off again, only (other than to capture this photo) I didn't. The reduction in 'dazzle' from oncoming cars was AMAZING and it wasn't just cars that I found it worked with; the reduction in glare from the street lights was also really good.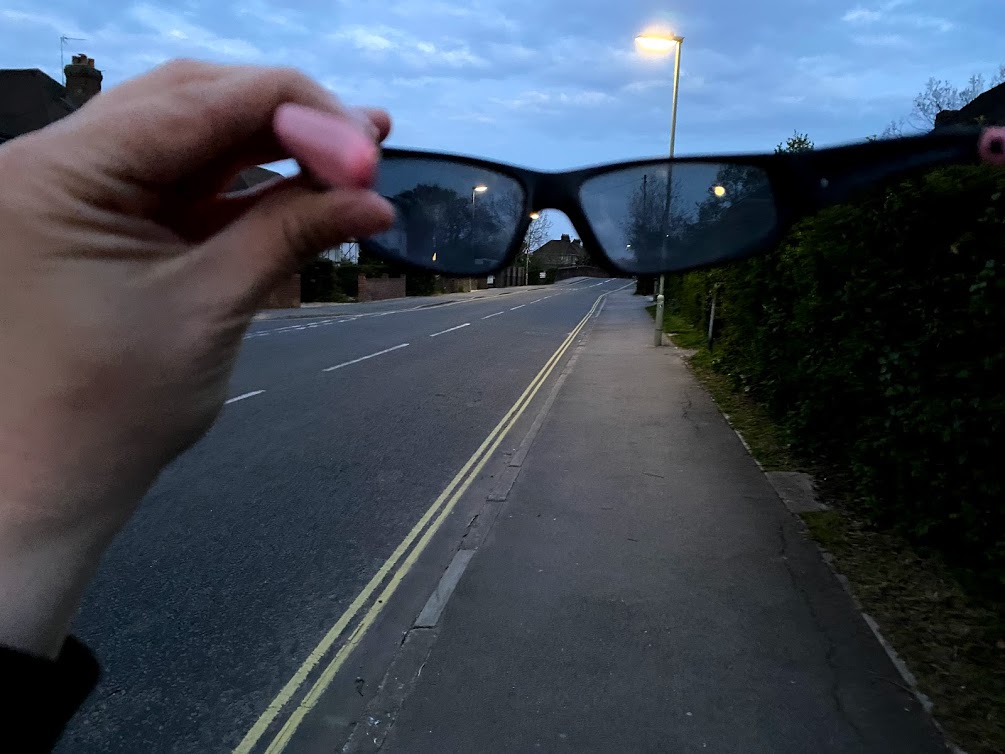 The reduction in what I could see was affected, however only in the way that I had lost the shadow definition, however with Fizz guiding me I felt comfortable with it all. Fizz quickly picked up that I was being more vocal with my commands and as we walked further she adjusted to the change in light levels too.
So, from now on it will be sunglasses after sunset as well as before.