This is an interesting one.  Something a little different for me.  Something that is far too good an opportunity to pass up.
Through my volunteer role with Open Sight I was made aware of The Conan Doyle exhibition that is currently taking pride of place at Portsmouth Central Library, an exhibition that was bequeathed to the City of Portsmouth by  richard-lancelyn-green with funding from The National Lottery (among others) it had been made fully accessible to those with a visual impairment.
Sadly I had yet to find the time to visit when I received another correspondence from Open Sight giving very vague details of a residential writing course being run and funded on behalf of The Conan Doyle Trust.  For whole Open Sight were simply collecting details of those who were interested to be passed over for more information.
The residential course running 5 full days would be fully funded including accommodation and travel, so I fully expected the 'application process email' when it arrived.
(I won't detail EVERYTHING here)
But hence to say, an interest in Sir Conan Doyle and his infamous charactor Sherlock Holmes were part of the process.
The first criteria was to submit TWO examples of our own work (published or not) to give an idea of writing style.
The second criteria was to write (in no more than 500 words) what you could gain from such a residential course, while explaining your interest in The Conan Doyle Collection.
So, I set to work, this is what I wrote:
Oh how I dream to study Sherlock!
The opportunity to attend a creative writing course will enable me to learn properly how to put my own 'interesting' writings of my journey with sight loss. To discover that the whole thing is not only being supported by The Arthur Conan Doyle Collection that was bequeathed to the City of Portsmouth; but it is to work on the ongoing projects funded to take part in 2018, possibly enabling me to write about my love and enjoyment of more recent adaptations of one of Doyle's infamous characters Sherlock Holmes and I find my fingers tingling over the keyboard to find the right words.
Just 500 words to explain myself, that in itself is a challenge!
Honestly, until the 2010 BBC TV series of Sherlock written by Steven Moffat and Mark Gattis I hadn't really had an interest in the works of A.C Doyle. I initially took each episode as it was, set in today's time yet with the iconic 'nod' to the originals by seeing Holmes and Watson share rooms at 221b Baker Street. I never realised just how many other 'nods' each story held.
And it was the special in January 2016 of The Abominable Bride that I gained so much insight into the original works of Doyle. Being visually impaired it is difficult to 'read' yet with audio description turn on I was able to enjoy every detailed part of the theatre that played out on the screen. The detailed explanation that had led the writers to take a trip into the past, the additional details within the current stories that all held historically to the original works. I was transported to a world of intrigue, mystery and found myself wanting to join The now consulting detective.
The whit and sarcasm were bought to life by a great cast, which I relate to as I often find myself writing with these; to turn some of the sadder stories that I relay into a more positive light.
My mind often runs away when I am writing and the words flow easily for the most part. I write in the hope that just one person will find comfort or happiness in reading my words. I write on my own blog www.seemyway.co.uk – about my own life, my journey, about the little 'tweeks' or 'blind fails' I encounter regularly. I also use it to talk about my passion for rock climbing, volunteering and not letting my sight beat me. It isn't always pretty happy stories, but then it is real and sometimes there is no way of adding a positive spin to something.
I want to expand my knowledge of writing, my understanding and use of the English language as my hope for the future would be to become a published author, supporting others with sight loss, their families and friends to gain a better understanding of how people can see the world when they are visually impaired.
(the supporting work I included)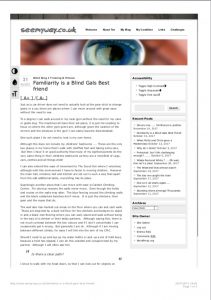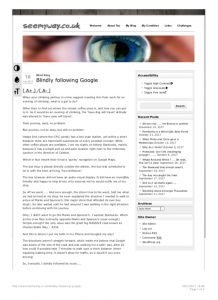 And now I wait….. A concept that requires Patience; something that doesn't come naturally to me !
Despite my work being 'found to be very interesting' I was put onto the 'shortlist' which meant that if (for whatever reason) anyone was t able to attend I would get to go.
So, I kept quiet, made arrangements as if I were to be going.  Only to hear at the beginning of this week that I would not be attending.
So, for now I am looking at the positives and have taken some learning away from this experience and I am also looking at other adventures that my blogging could open for me.
So….. Watch this space !!!