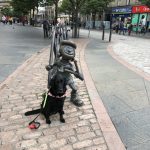 Continued from … Peaceful Pitlochry
The train journey from Pitlochry saw another 'quick dash' out of Perth railway station to enable Fizz to have a comfort break and to arrive in a very different Dundee.
Not because since my last visit my sight has changed; Not because my last visit saw me guided by my first guiding girl Vicky; Rather because THIS Dundee had undergone a MASSIVE transformation that started with the railway station.
A railway station that reminded me so very much of Canary Wharf in London, with its long escalators, glass lifts, grand piano and open spaces.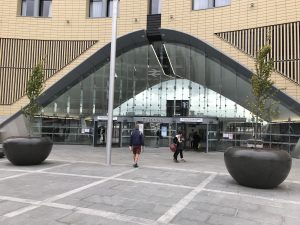 And it was in a very different place to the old station. Instead of walking out of the station to seeing the RRS Discovery (The ship that Captain Scott took to the Antarctic) across the road, it was now surrounded by building works and to the right a rather large imposing building, that as of late September 2018 will be The V&A Museum Dundee.
Even my hotel was so new that when I looked on Google Street View it showed it as a building site! But thankfully when I arrived, it was all there beside a lovely welcoming looking Beefeater.
With my room on the 3rd floor I looked out over The River Tay and across to Newport-On-Tay. I spent the evening walking along the promenade and taking in the changes to the area. I found several grass areas for Fizz and even introduced Fizz to The RRS Discovery and its penguins as you can see from the photographs.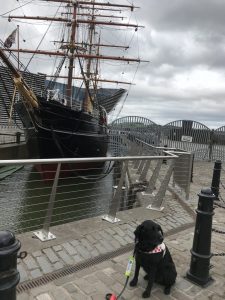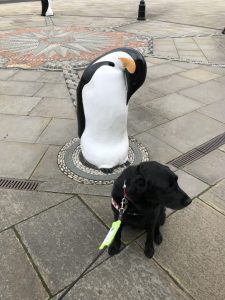 I enjoyed a relaxed unrushed meal in the Beefeater and took advantage of an early night, as my Friday was set to be a busy one.
For Friday I would be checking out of the hotel, but before returning to Glasgow to start my journey home I was catching up with more family.
As a place I have been to many many times before this is the first time I have been without my parents. It is also the first time which I can remember that I visited The McManus Galleries; or rather The McMenace Galleries as they have temporarily been renamed. After all Dundee is the home to The Bashstreet Kids, Desperate Dan and Denise the Menace, which are all celebrating their 77th year and heritage within Dundee.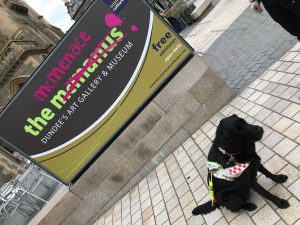 As a child I grew up with The Beano, so was enthralled to see how it has changed throughout the years. Although I am not a fan of the latest 'computeriised' imagery that moves it away from its comic book strip format.
My wee cousins (actually my cousins children) were my tour guides, taking us around Dundee, walking among the old train lines that run along the now pedestrianised streets. I even got the opportunity to leave my mark. In signing my name and writing my gratitude on the six foot tall 'THANK YOU' had had only that morning been installed as part of the city's commemoration to hero's for this years D-Day Celebrations.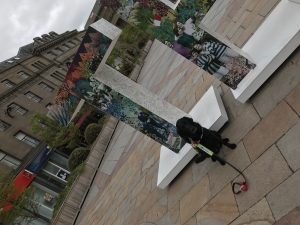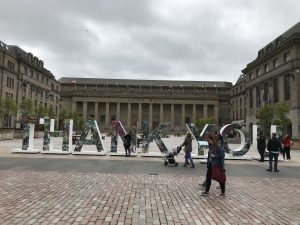 And from Dundee we travelled to another favourite haunt as a child when I would come to spend the summer with my Granny Lily…. We went off to Broughty Ferry, were we walked along a very blustery shore, saw the castle and then enjoyed a nice late lunch together.
Time ran away from us, we chatted, we remembered those family members who were no longer with us and we laughed at fond childhood memories.
Back in Dundee for one day was not long enough…. I shall most definitely be returning, making this my base next time. So many more adventures to in this beautiful city I am sure…. At the very least I need to come back to see if the inside of the new V&A museum is as breathtaking as the exterior?