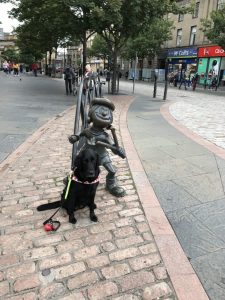 As someone with sight loss, it can often be quite painful to look back.
This is because looking back is a time when there was more sight, less struggles.
However, in this instance I am looking back to actually be able to measure how far I have come.
This time five years ago I was in the midst of training with Fizz, my second guide dog.
Training with Fizz was different in many ways to when I trained with Vicky.
For starters, I didn't have the nausea that I had had during training with Vicky (as I soon discovered I was actually pregnant with my son)
I also discovered very quickly, that although trained the same, personality played a big part in how a dog behaved and works…
Unlike Vicky, Fizz was not a licker; she was however a very tactile dog and loved to be close, preferably touching me at any opportunities.
I was also quick to learn that Vicky had actually worked on me and twisted me around her paw!
This became apparent as we trained within our local supermarket.
(With Vicky) If I had forgotten to pick something up in the aisle we would walk up-to the end of the aisle, around to the next and complete a loop to get back to the beginning. As she (Vicky) would never just turn around and go back on herself.
I just thought that this was the way this was how things were done….. How wrong I was !!!
When going to do this same move with Fizz in the supermarket my GDMI (guide dog mobility instructor) asked what I was doing, so I explained to be told in a firm (but fair) tone
You turn your dog around. Right where you are!
My GDMI referred to my previous guide dog as a 'double diva retriever' as she was both a flatcoat retriever and golden retriever. Which only became more clear as my training with Fizz progressed. As I worked backwards from some of the 'habits' Vicky had me doing to suit HER.
Fizz was also different in that she was walking at the pace I SHOULD be walking at; I say should because I hadn't realised that as Vicky had slowed in her older age, I had simply adjusted to that too. When actually my preferred walking pace was considerably faster. However to begin with, this made it feel like I was running to keep pace. Just 10 days in to training I was already finding each day a little easier and enjoying the long walks more and more.
If I am honest, I found it much harder to train with Fizz than I did with Vicky, however my life was so different from when I started training with Vicky back in 2009.
And a massive chunk of that was actually down to Vicky; down to the freedom and independence she had given me.
I was no longer the woman who relied on others to take me places, if I wanted to do something or go somewhere, with Vicky beside me I was able to achieve this.
Home life had changed to, when I trained with Fizz I was no longer working, but instead I filled my time with volunteer roles, climbing, socialising, walking and of course caring for my children.
And now I also had the time to be able to spend time taking Vicky out each day for a (non working) walk and play at the park so that she could enjoy her retirement at home with me and the children as part of our family.
Which is where she stayed with us until she passed away at the very beginning of 2018.
Fizz picked up on my hearing loss sooner than I did; she stepped up and kept me safe when I missed the odd bike or electric car.
She has been my rock.
She has taken the independence Vicky gave me and enabled me to expand on it, we have had some amazing and sometimes crazy adventures.
It's hard to believe that Fizz has been my leading lady for five years now, however on the other side it is also becoming clearer that at eight and a half years old, Fizz is starting to behave in ways that show me that she is starting to slow down, isn't as keen on some situations.
And that maybe; just maybe. It may be time to think about her happiness above my own and if it's time to look into her retirement plan.