My guide dog is often admired when we are out and about.  Many people are surprised when they see a dog in an inside environment, such as a shopping centre or cinema.  But people appear much more surprised when they meet us at somewhere like a theme park.
As it's the Easter weekend I got the opportunity to go to Drayton Manor to visit Thomas Land with my little boy.  We had a fabulous time in the park, lots of rides and my GD Vicky enjoyed all the fussing she was getting while we waited in line for our turn.
She didn't go on any of the rides with us, she stayed with one of our party so that I had her to guide me, but didn't have to miss out on the fun and thrills of the rides.
Drayton Manor have their own zoo with a collection of owls, monkeys and a black leopard.
Having phoned ahead of our visit, I had spoken with one of the keepers and they were happy for my GD to go into the zoo area, with the provision that if she of the animals appearedto be distressed I was to walk away.
There were numerous zoo staff around the zoo who were very happy to see us and help explain what was in the enclosures.
The monkeys were the first to spot Vicky.
They were very interested and intreaged by her.  They came up to the bars on their cage to see her.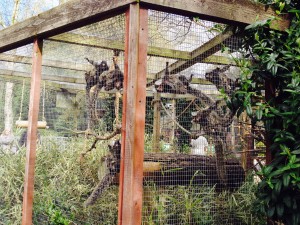 Then there was black leopard, she came right up to see Vicky, yet she wasn't stressed or showing any aggression, just interest.

And then there was the gibbons, they wanted to play, they were chatting away to Vicky and she in return was making noises to them too.  But again, with a zoo keeper on hand, I was reassured that this was friendly chatter that they often sharedamongst themselves during play times.
I was able to get some lovely pictures of the animals in the zoo, so once home I could actually sit down and look through the pictures with my son and he was telling me about what he thought of when he had seen the animals.  For me, seeing animals when visiting the zoo with my children is not something that I get to do very often.
It is only in more recent years that zoo's have allowed guide dogs and other assistance dogs into the grounds, with many restrictions for the safety of the animals and the dogs.  With Vicky by my side, both me and my son were able to have a much closer encounter to the animals than we had ever thought possible.