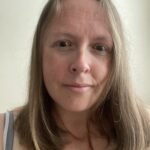 Thirteen years is a long time: It's also an incredible measure.
On this day 13 years ago I left my Consultants office feeling that my life was over; all because in that 45 minute appointment where I entered expecting to discuss a double cataract operation to DRAMATICALLY IMPROVE my sight I actually found myself leaving with my CVI (Certificate of Visual Impairment) and being told that my sight was already bad enough for me to be registered Severely Sight Impaired. (previously classed as BLIND)
And in the grand scheme of things, the risks of cataract surgery because of my eye movement (Nystagmus) would not offer me any significant benefit.
This day 13 years ago, nothing significantly or physically had changed with my sight. The deterioration had been there all of my life, but it had been so gradual and undetectable by my optician that even though Doctors predicted that I would go blind as a child; because this hadn't come to fruition at the age of 10/11 I had been discharged from the hospital.
And only after a chance conversation with my optician about how long it took my eyes to adjust from outside to inside has found me back seeing the consultant at the local eye hospital for the first time since I was about 12!
This day 13 years ago was actually the beginning of so many good things.

However that wasn't before I went through some incredibly dark times (mentally) and still do to this day.
I am so very grateful to those who have walked beside me in the last 13 years.

As well as those who have walked away.
Because for someone who now no longer makes out even that GIANT single letter on the eye chart or anything that is not within the 3% of my remaining central vision; the way my life has changed in those 13 years has enabled me to see many situation incredibly clearly. (Pun intended)
So with a smile, a positive outlook and an AMAZING group of cheerleaders behind me. I am the girl I am today because of the pain I faced ON THIS DAY 13 years ago.
My sight has deteriorated dramatically from that appointment 13 years ago, but my character, my inner strength and my stubbornness have got me this far. And I have no doubt they will get me through the next 13+ years.